Electrist 0.61b1 released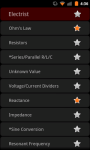 Electrist 0.61b1 has been updated in the Android Market with the following changes:
0.61b1 [Mar 2, 2011]
+ new menu icons
+ calculator activities now finish() on switching back to the chooser
+ revamped calculator chooser - now with 1000% more icons and favoritability
+ installed periodic waves calculator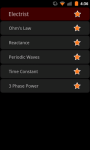 The biggest changes are to the appearance and function of the calculator chooser screen. You can now "bookmark" the calculators you use the most frequently by tapping the star icon in the row for them. To show or hide rows that are not selected tap the star icon in the stationary top red row.
The icons for the menu items were also reworked and hopefully give Electrist a more polished look.
Under the hood, the calculators now call the finish() method when you use either the back key or Calculators menu item. This should help keep the user experience less cluttered by keeping the history stack tidy. The end result: never requiring you to hit the back button 4,000 times to exit backwards out of the app.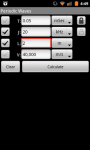 The final change in this update is the addition of the Periodic Waves calculator. It's not one of the more anticipated inclusions, but I wanted to include the other new features without breaking my goal of including a new calculator with every major update.
If you haven't gotten it yet, get Electrist 0.61b1 now on the Android Market!